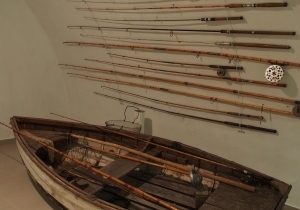 Development of fishing and angling
Explore standing water and rivers from source to mouth.
Characteristics such as the inventory of the most typical fish species, the amount of carp, pike-perch and Northern pike captured annually or the statistics on the consumption of fish may all provide interesting pieces of information. Endangered wetland habitats are demonstrated.
Did you know that the dams built in the gorge called Iron Gates on the River Danube have hindered Beluga Sturgeon from being able to swim upstream to its spawning-ground, and therefore, contributed to the extinction of this magnificent species in Hungary?
Fishing and angling tools such as weir, harpoon, spinning reel and carbon fibre used formerly and today are displayed.
Did you know that angling is one of the most popular leisure activity in the European Union?