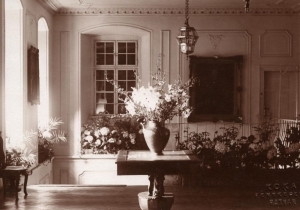 Grassalkovich Mansion, Hatvan
The mansion was built by Count Antal Grassalkovich (I) between 1754 and 1757. Further expansions were added to the building in 1763. Although Hatvan was a manorial centre, the mansion never served as a residence since the family mainly resided in Gödöllõ. The mansion was built on the site of a medieval castle, most probably using certain preserved parts of the old building. Its façade faces the main square of the town. The building stands a few meters above the floodplain of the Zagyva river flowing in the vicinity.
Arriving at the east wing on the ground floor, we enter the exhibition from the café. In three rooms interiors have been designed according to historical photographs. Visitors can feel themselves back in the Hatvanys' time while walking around the pieces of furniture, archive photographs and furnishing. Sitting in comfortable armchairs we can take virtual tours around the castle.