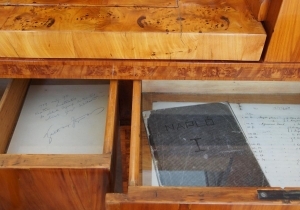 Zsigmond Széchenyi memorial room
Count Zsigmond Széchenyi after whom the museum was named, and his works are presented in this room. What was the life of an aristocrat like, being not only a hunter but also a writer who cared for nature?
World record antler trophies, trunks, life documentary on the life of the count, photo albums on his trips, original editions from the early 20th century by writers who wrote their hunting stories, old guidebooks, hunting textbooks are all displayed in the study to evoke the living circumstances and culture of the great hunter and his main destination, Africa.
Besides original books presented, digitized copies of his books and other documents are available electronically.